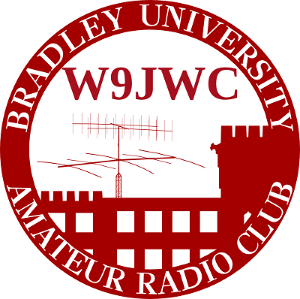 Bradley University Amateur Radio Club is a student-run organization for Bradley University students interested in participating in the amateur radio service. Our yearly activities are based on the interests of club members. We participate in general operating, contesting, kit building, and whatever adventures the officers puts together!
Amateur Radio FAQs
Who are we?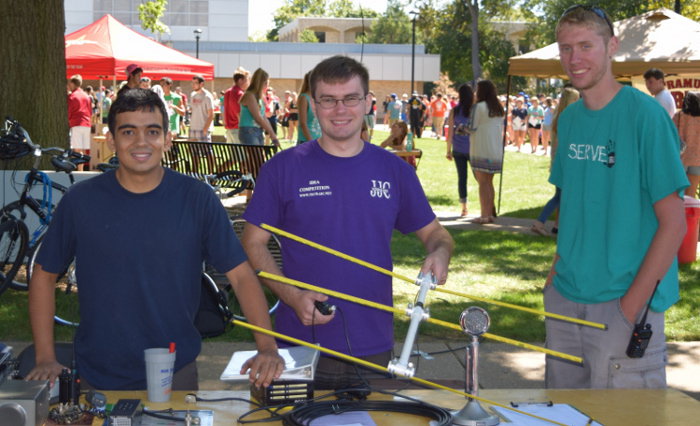 We are Bradley University's Amateur Radio Club, also known as BUARC, in Peoria, Illinois. We have our own amateur radio station, with a callsign W9JWC. We use this callsign to identify ourselves when we're on the air. While having an amateur radio license isn't needed to join the club and participate in activities, it is required to legally operate our equipment.
Doesn't Bradley already have a student radio club?
Yes, but chances are you're thinking of The Edge, Bradley University's student-run FM broadcast station. While they play music, we use the airwaves for much more.
What is Amateur Radio?
Amateur radio, or ham radio, is a two-way radio communications service. Amateur radio operators, or hams, use several different modes of communication, such as voice, morse code, various digital modes, and even television. With a small radio and a decent antenna, one can to talk to the world without using the internet or a telephone. Amateur radio is often considered a hobby, but when natural disasters strike and conventional "grid" communications are out of service, amateur radio operators step up to help coordinate emergency communications and assist rescue workers.
How do I get a license?
To become a licensed amateur radio operator, one must pass an exam with 35-50 multiple-choice questions, administered by volunteers. There may be a small fee to take the exam, which is set by the coordinating group. As of 2007, there are three classes of operator licenses that new hams can obtain. In order of progression they are Technician, General, and Amateur Extra.
With each class, one acquires more priveleges, including a larger range of frequencies on which one can operate. As a club, we are more than willing to help you prepare for these exams. There are plenty of websites with practice material and study guides out there, some of which are listed on our /resources">resources page. In the Peoria area, VE exams are organized by members of W9UVI, the Peoria-area Amateur Radio Club.
How can radio benefit me?
Not only is radio a fun way to learn and great way to meet new people, it can serve as a way to give back to the community through volunteer work. Also, conferences known as hamfests are held throughout the United States and other countries, and are a an opportunity meet to socialize and compare notes on their operations and station. As a club, we attend Peoria Superfest every year. There are also scholarship opportunities available for students to help pay college tuition.
Contact
Do you want to get your license, join the club, or just want to learn more? Attend one of our general meetings, or send us an email.
Email: BUAmateurRadio@gmail.com
Facebook: BUARC
Calendar: /calendar">Club events calendar, which has meeting dates and upcoming events.
W9JWC Repeater
Another great way to get ahold of us is through our repeater, which is located on top of Geisert Hall (911 N. Duryea Pl., Peoria, IL 61606). While it's almost exclusively used by student club members, it can get quite busy between August and May. Feel free to jump on.
Frequency:
444.475+ MHz (Output: 444.475, Input: 449.475)
CTCSS 103.5Hz
By mail
QSL cards and other things can be sent to:
Bradley University Amateur Radio Club
1501 W. Bradley Ave.
Peoria, IL 61625

Yes, we do QSL via mail and Logbook of the World.